MENA & Israel, News, World
In the ramp up to the final moments of the election in Lebanon (May 6th, 2018), many politicians work to please their voters. Sadly, in Sidon, this means the physical erasing of the Jewish community. The Jews of Sidon believe that their community dates back to the first arrival of Israelites (roughly 1000 BCE) and their synagogue to the Second Temple period (Josephus, Jewish Wars 1:422). They even have a tradition that the tomb of Zeḇulun the son of Yaʿaqoḇ (yes, one of the members of the twelve tribes) is buried there and a mausoleum stands in his honor. "Zebulun shall dwell by the seashore; He shall be a haven for ships, and his flank shall rest on Sidon." –  Genesis 49:13
When the Jews lived in Sidon, they kept only one day of yom ṭoḇ because of its close proximity to Jerusalem. Though only a small amount of information exists, Sidon probably had a small Jewish community at the time of the Muslim conquest in the seventh century. In the twelfth century, Spanish traveler Benjamin of Tudela mentions that twenty Jews (perhaps twenty families) lived in Sidon, which he called  "a large city." 1 In the nineteenth century as Beirut became more metropolitan, many of the Jews spread throughout Lebanon flocked to Beirut.

Nagi Georges Zeidan, an amateur historian on Lebanese Jewry, posted on his Facebook page (followed by many of the Lebanese Jews around the world) on April 23rd, 2018:
Jewish Quarter of Sidon, the old plaque where was inscribed "Ḥaret el-Yahoud" was replaced by another plate with the inscription "Ḥaret el-Quds."
Though there is nothing inherently wrong with the term "el-Quds" (one of Jerusalem's names in Arabic), the erasing of the "Ḥaret el-Yahoud" is strictly political. This is not the only change going on in Sidon, on April 20th, 2018 Nagi reported that the "west wall of the cemetery that separates the old seaside is completely demolished by excavators." "These machines are well inside the Jewish cemetery, in fact they… damaged and partially destroyed tombs."
In 2016, Nagi (who has been collecting everything he can find on the Jewish community in Lebanon since 1996) returned to revisit the remains of the Jewish community. When Nagi could not locate the Jewish Quarter, he was advised to "follow the swastikas" in order to find the location – the place had been renamed from "Ḥaret el-Yahoud" to "Ḥaret el-Ghaza."
This is not the first time the Lebanese government has demolished the Jewish community and their physical history. In Deir el-Qamar, the Jewish community lived amongst Druze Prince Fakhr-al-Din ibn Maan and were permitted to build a synagogue in 1638. My family helped build it. Sadly, instead of being preserved as a museum by the Générale des Antiquités (General Directorate of Antiquities) it has been destroyed in order to be turned into a dance studio. A friend of mine visited Lebanon in the summer of 2017 and reported back to me the shock he found in the place that was once my family's synagogue:
they had no idea it was a synagogue… it was terribly heartbreaking… I would not have thought that this was it if three old ladies hadn't insisted so, and if it didn't match the photos you sent earlier… they have erased any trace of what this place was.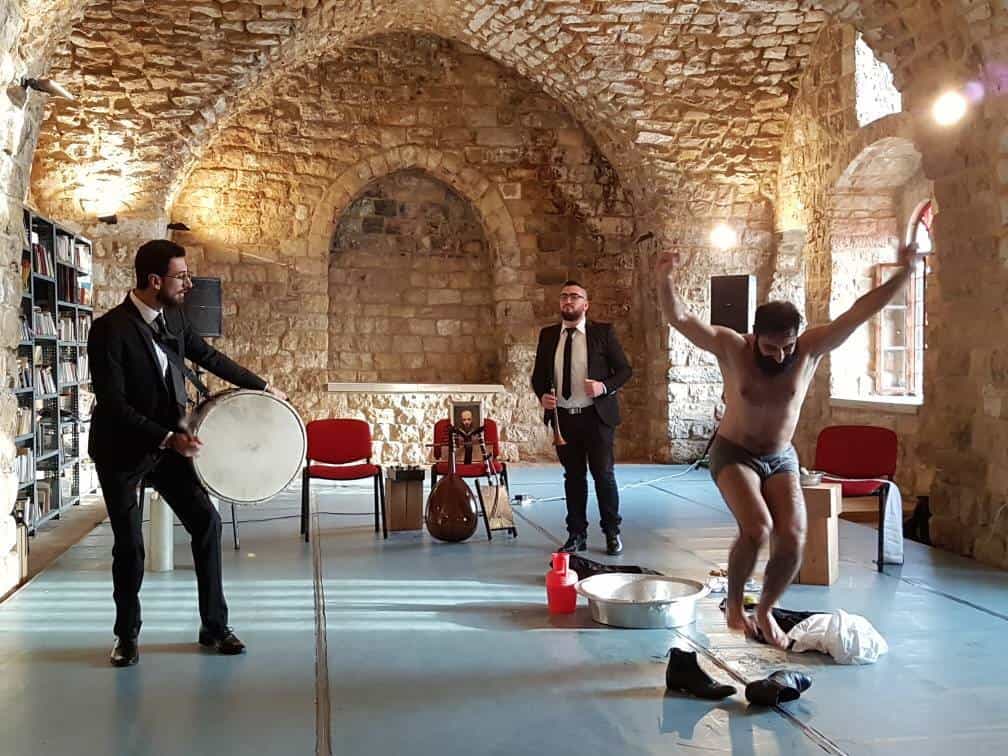 Other synagogues throughout Lebanon lay in disarray – in the city of ʿAley, the Ohel Yacoub was built in 1895, in Bhamdoun the synagogue was built in 1910. The Wadi abu Jamil neighborhood in Beirut that once housed multiple synagogues and was known as the Jewish neighborhood is almost unrecognizable today to its former inhabitants (much was destroyed in the many wars that it endured and the blame cannot be placed solely on the government).
Even though the government, with help from other parties, did renovate the Maghen Abraham Synagogue (est. 1926) in 2010 in Beirut's old Jewish quarter in Wadi Abu Jamil, other historical sites have not been protected. This is not only a problem for Jews. The government is destroying many old and historical places throughout Lebanon, while historical societies like Save Beirut Heritage are admirably trying to save and preserve them. Sadly, there is no voice to speak up for the Jewish people and their history in Sidon, Deir el-Qamar, or the many other historical places in Lebanon.
When our rich history is destroyed, our achievements are destroyed as well, and it becomes as if we never even existed. How can Jews ever return if their places of gathering (batte kenesiyoṯ) are destroyed and their history is no more? Who will remember us?
---
Due to the variable nature of our posts and the wide spectrum of ideas exchanged, we feel it is important to clarify that the thoughts and opinions shared in posts and articles reflect the opinions of the author and are not representative of our contributors as a whole.
---
[jetpack-related-posts]